2007 Lamborghini Murciélago LP640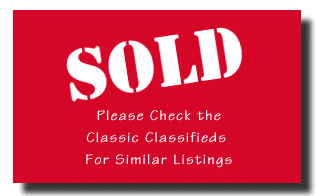 Exterior Color:
Gray
Interior Color:
Black Leather
Mileage:
7500 Miles
Car Information:
2007 Lamborghini Murciélago LP640 - Soon you can driving the 632-hp Lamborghini Murciélago LP640 all it takes... The Murciélago sports a 6.2-litre version of the Lamborghini V12 engine, a or six-speed paddle shift transmission, and four-wheel drive. The car has the up graded ceramic disk brakes (17,000 dollars)and full leather interior It also has a rear spoiler that can be raised to an angle of 70 degrees, side mirrors that fold in to improve aerodynamics, and side scoops that automatically open to the needed size to let in just the right amount of air needed to cool its engine Our car is the same color as the car in the photos with just about all the same options but more... Feel free to call for details Photos are not our car photos on request Thanks for your interest
Please call for further details.
---
Contact Information
Highway One Classic Automobiles

1035 California Drive

Burlingame, California 94010

United States of America

Phone: 650.342.7340

E-Mail: Del@highwayone.com